That's a wrap
Thank you to presenters and delegates who attended the 25th National VET Research Conference 'No Frills' at CQUniversity in Rockhampton last week.
We wish to acknowledge the support of CQUniversity and thank them for co-hosting the conference at their impressive Rockhampton North campus.
Presentations
Keynotes can be viewed on NCVER's YouTube channel. Presentations submitted to us can now be accessed from VOCEDplus.
Poster Winners
NCVER would like to thank all poster presenters for their contribution to an excellent poster session at the conference. Congratulations to the following award winners:
Best Poster Award: Monica O'Dwyer, from AMES Australia for her presentation Employment outcomes of newly arrived migrants after participation in workforce preparation or entry level vocational training, judged by Professor Helen Huntly, CQUniversity and Dr Patrick Korbel, NCVER
People's Choice Award: Scarlett Whitechurch, from RMIT University for her presentation Ensuring equity of access: what can we learn from the deregulation in the Victorian VET System and the widespread rorting of VET FEE-HELP to ensure genuine equity of access to education and training for students, particularly those who are vulnerable?
Sponsors
This event would not be possible without the ongoing and generous support of our sponsors. Thank you to:
AAIR
Allen & Unwin
AVETRA
Velg Training
VET Development Centre
VETnetwork Australia
Next year's conference
We're pleased to announce the 26th National Vocational Education and Training Research Conference will be co-hosted with TasTAFE and held in beautiful Hobart.
Dates and further information to be announced.
About the conference
Join us at the 25th National Vocational Education and Training Research Conference 'No Frills' in sunny Queensland.
Co-hosted with CQUniversity, the conference will be held at CQUniversity's picturesque Rockhampton North campus on 4-6 July 2016.
'No Frills' is a well-known annual national conference where researchers and practitioners in the vocational education and training (VET) sector come together to present, discuss and share information about key issues confronting the sector. It also provides professional development opportunities for new and existing researchers.
The 2016 conference program will highlight (but is not limited to) research across three themes:
Equity: supporting diversity through promoting inclusive training opportunities for all Australians
Engagement: students, providers, employers and government working together to improve access, participation and outcomes from training
Evolution: developing a skilled and flexible workforce to adapt to rapid technological change in the workplace, and to improve national competitiveness.
'No Frills' is considered one of the best value events on the VET calendar. We keep the registration fee low by partnering with training providers, showcasing their facilities, and utilising their teaching facilities instead of hosting the conference at commercial venues.
Who should attend?
Educators
Researchers
Policy-makers
Publicly funded training providers (for example, TAFE)
Registered training organisations
Schools and universities
Research organisations
Commonwealth, state and territory education and training authorities
Industry bodies
Employer groups
Not-for-profit and community associations
Private consultants
Program
The conference guide including the full program and abstracts is now available to download.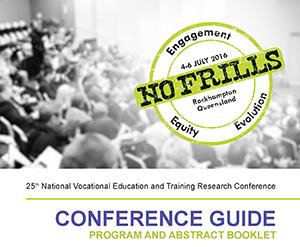 Workshops
NCVER is offering a series of optional professional development workshops prior to the conference on Monday 4 July. This year's topics include:
Workshop #1: VOCEDplus - helping you understand the VET sector
Workshop #2: Robust questionnaire design - a crash course
Workshop #3: How to get the most out of your data
Workshop #4: Practical evaluation: a survival guide
An $80 fee applies to attend two workshops.
Welcome Reception
Delegates are invited to attend the Welcome Reception on Monday 4 July at the Birdcage Bar on the CQUniversity campus. This provides a great opportunity for you to meet and network with other delegates. Poster presentations will be on display during this time.
Attending the Welcome Reception is included in your conference registration fee.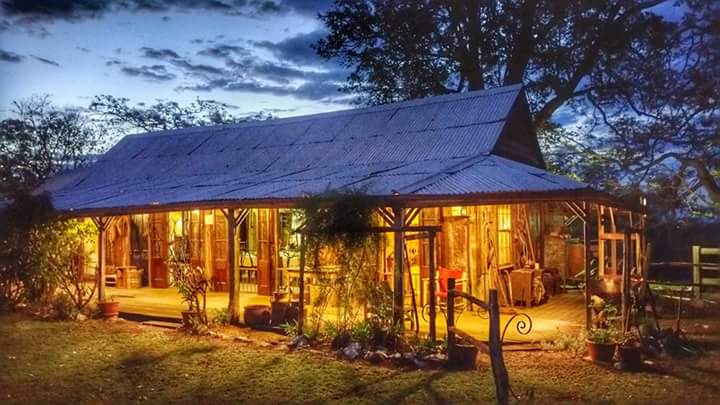 Conference Dinner
Delegates are invited to attend the 'Back to the Bush' themed conference dinner at historic Glenmore Homestead on the evening of Tuesday 5 July. Featuring a sumptuous three-course homestyle buffet and entertainment, the night provides a great opportunity to relax and unwind.
The dinner, exclusive of drinks, is $55 per person. A cash bar will be available on the night for those wishing to purchase drinks. We encourage delegates to dress 'country casual' in jeans and boots.

Bookings for the conference dinner are essential as places fill fast.
Keynote Speakers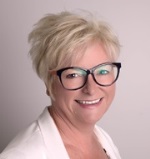 Linda Brown, Chief Executive Officer, Think Education; Chief Executive Officer, Laureate Australia & New Zealand; President of Torrens University Australia; Chief Executive Officer, Blue Mountains International Hotel Management School
Linda became Chief Executive Officer at Think Education on 1 May 2013 and led the tertiary education provider through its acquisition by Laureate International Universities. Laureate International Universities is a network of more than 80 campus-based and online universities that offer undergraduate and graduate degree programs to over 1 million students in 28 countries throughout the Americas, Europe, Africa, Asia and the Middle East.
Laureate Australia comprises three institutions. Torrens University Australia is a new university and Think Education has both higher education and vocational education and training (VET) courses. Blue Mountains International Hotel Management School, with its higher education courses, continues to win awards and is recognised by the industry as the elite training ground for hospitality professionals in Australasia.
Linda has more than 23 years of management experience in the education sector in Australia and the United Kingdom. Prior to joining Laureate, Linda was Deputy Vice-Chancellor and Director TAFE at Swinburne University, Melbourne and before that was a senior executive director in the Queensland Public Service.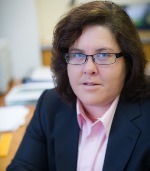 Jodi Schmidt Chief Executive Officer, TAFE Queensland
Jodi is responsible for the overall leadership of TAFE Queensland as an independent statutory body, ensuring it is developed into a flexible and responsive organisation that works closely with industry and the community to meet the needs of stakeholders in a commercially viable way.
Jodi has been part of the vocational education and training (VET) sector since 2005 and has shown strong commitment to the sector both in Queensland and nationally. Prior to her current role, Jodi was Deputy Director-General, Training and Employment within the Department of Education, Training and Employment with overall responsibility for the state's training and employment portfolio, which included directing $1 billion plus government investment in each year. Her extensive VET experience includes, Acting Chief Executive Officer, Chief Operating Officer and Director of Commercial Strategy for the former Southbank Institute of Technology.
Venue
Co-hosted with Central Queensland University, the conference will be held at CQUniversity's Rockhampton North campus.
CQUniversity
Bruce Highway
NORTH ROCKHAMPTON
Local campus enquiries +61 7 4930 9000
For more information about the location, to download maps and view location video
About CQUniversity
Since merging with Central Queensland Institute of TAFE on 1 July 2014, CQUniversity Australia is Queensland's first dual sector university. CQUniversity Rockhampton North is the university's main campus and administrative centre providing a service community for the largely rural Central Queensland region. The campus has lush gardens and lots of greenery, providing a tranquil and picturesque environment.
CQUniversity offers over 300 education and training options ranging from short courses, certificate and diplomas to undergraduate, postgraduate and research higher degrees.
Location
Rockhampton lies on the Tropic of Capricorn, 633km north along National Highway 1 from Brisbane. Principal rail and air routes, developed to support Central Queensland's agricultural and mining exports, make Rockhampton readily accessible from within Australia and from Asia.
With a resident population of only 60 000 Rockhampton is compact and easy to get around, but has the businesses and services to supply the region's 180 000 people.
Rockhampton provides a gateway to the nearby beachside communities at Yeppoon and Emu Park, just a short drive away by car or bus. The nearby islands of the Great Barrier Reef, and a sub-tropical climate with summer rains and mild sunny winters, attract tourists from Europe, Asia and southern Australia. Extend your stay for a perfect family holiday!
Accommodation
There are a number of accommodation options available at a variety of different budgets close to the venue.
There is also a new property, Kortes, that recently opened about 5 minutes drive north of the campus.
Rockhampton attractions
Some options to extend your stay for a perfect family holiday.
General information
Conference contact
Chelsea Saint, Events Officer
National Centre for Vocational Education Research
Level 11, 33 King William Street, Adelaide, SA, 5000
Email: chelsea.saint@ncver.edu.au
Phone: 08 82308617
Sponsors
Thank you to the following organisations for contributing to the 25th National Vocational Education and Training Research Conference 'No Frills'.
Keynote Speaker Sponsor
Tea Break Sponsor
There's still time to sponsor the conference. Sponsoring the conference provides your organisation with the opportunity to showcase your products and services.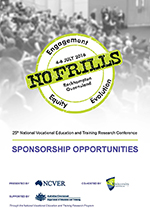 A range of sponsorship packages are available, or packages can be tailored to suit your needs and budget.
To view the range of packages available No Frills 2016 Sponsorship Opportunities
If you wish to discuss sponsorship, please contact Chelsea Saint.
Virtual satchels
For the first time at a 'No Frills' conference, we've introduced an environmentally friendly alternative to providing a conference bag to delegates.