About the conference
The 27th National Vocational Education and Training Research Conference 'No Frills' is being co-hosted with New Zealand partners, the Industry Training Federation and Ako Aotearoa on 15-17 August 2018.
'No Frills' is a well-known annual national conference where researchers and practitioners in the vocational education and training (VET) sector come together to present, discuss and share information about key issues confronting the sector. By partnering with New Zealand, this year's conference will provide an excellent opportunity to highlight international evidence for benchmarking policy best practice.
The conference also provides valuable professional development opportunities to enhance research capacity and capability in the VET sector by incorporating activities on data and research analytics, and research practice.
The 2018 conference program will focus on Skills for a global future: working and learning together.
Who should attend
Educators
Researchers
Policy-makers
Registered training organisations
Schools and universities
Research organisations
Commonwealth, state and territory education and training authorities
Industry bodies
Employer groups
Not-for-profit and community associations
Private consultants
Keynote speakers
We're thrilled to announce 'No Frills' 2018 keynote speakers Professor Lene Tanggaard (Denmark), prominent Australian economist Dr Andrew Charlton, and Australian Government Assistant Minister for Vocational Education and Skills The Hon Karen Andrews MP.
Dr Lene Tanggaard is a Professor of Psychology and Vice Head of the Department of Communication and Psychology at the University of Aalborg, Denmark. She is also Director of The International Centre for the Cultural Psychology of Creativity (ICCPC), and co-director of the Center for Qualitative Studies.




Lene is regional editor of The International Journal of Qualitative Research in Education, co-editor of Psykologisk Pædagogisk Rådgivning. She has given many keynotes at international conferences, and she is author of numerous research papers and books on learning and creativity with a particular focus on VET.

Dr Andrew Charlton is co-founder of AlphaBeta, a leading economic analytics company based in Sydney and Singapore. He has previously worked for the United Nations and the London School of Economics.




From 2008-2010, through the period of the global financial crisis, he served as senior economic advisor to the Prime Minister of Australia and Australia's senior government official to the G20 economic summits.




He received a Doctorate and Masters in Economics from the University of Oxford, where he studied as a Rhodes Scholar. He is the author of two books, Ozonomics (2007) and Fair Trade for All (2005), co-written with Nobel laureate Joseph Stiglitz.

Ministerial address

The Hon. Karen Andrews MP was first elected to federal parliament in 2010 to represent the electorate of McPherson on the southern Gold Coast. Mrs Andrews has held several portfolios in the Coalition Government and has been Assistant Minister for Vocational Education and Skills since July 2016.




Mrs Andrews is focused on raising the status of VET and ensuring it provides people with the skills industry is looking for to secure the jobs of the future. Her qualifications include a BEng(Mech) and a GradDip in Industrial Relations.

Dinner speaker

As a player, coach and ambassador, Kevin Sheedy has had one of the most successful careers in Australian sporting history.




But there is more to Kevin Sheedy than football. He is a marketer, a thinker, an innovator, the holder of awards for community service and an inspirational speaker, capable of talking about subjects way beyond the boundaries of sport.




A qualified plumber, Kevin is an Australian Apprenticeships Ambassador for the Australian Government.
Program
This year we received an unprecedented number of high-calibre abstract submissions. We would like to thank all candidates for their time and effort in preparing their abstracts.




Josh Williams, Chief Executive of New Zealand's Industry Training Federation, said "The quality and breadth of abstracts was outstanding, and add up to an unmissable event that we are sure will have something to interest everyone."




To download the program, click the image on the right.

Key dates

Monday 6 August 2018
Last date for submission of conference presentations
Registration
A range of registration options are available up to the value of $500.
Scholarships
Scholarships were offered again this year, for the second year running. This initiative, which is part of NCVER's commitment to build capacity and capability in VET research, is designed to facilitate attendance and widen participation from across the VET sector.
Congratulations to the following 'No Frills' 2018 scholarship recipients:
VDC Practitioner Scholarship: Ms Xenia Girdler, Global Reconciliation
Presentation: Delivering a diploma of community services (alcohol and other drugs and mental health) in the remote town of Katherine (NT): a case study
AAIR Early Career Researcher Scholarship: Mr Daniel Jolley, Curtin University
Presentation: Is vocational training failing to prepare fitness students for employment and future study?
NCVER Early Career Researcher Scholarship: Dr Stacey Jenkins, Charles Sturt University
Presentation: Skills for a global future for women in regional Australia
Scholarships, valued at $1,200, cover full conference registration (including pre-conference workshops, welcome reception, and conference dinner) as well as $700 to support travel, accommodation, and other related sundries.
New Zealand presenters
Those travelling from New Zealand to attend the conference can apply for financial support from the Industry Training Federation. Preference will be given to those who have research abstracts accepted.
Sponsorship
We're pleased to offer a range of sponsorship packages. We encourage you to get in quick as these opportunities will not last long.
Please click the image below to download the Sponsorship Opportunities booklet.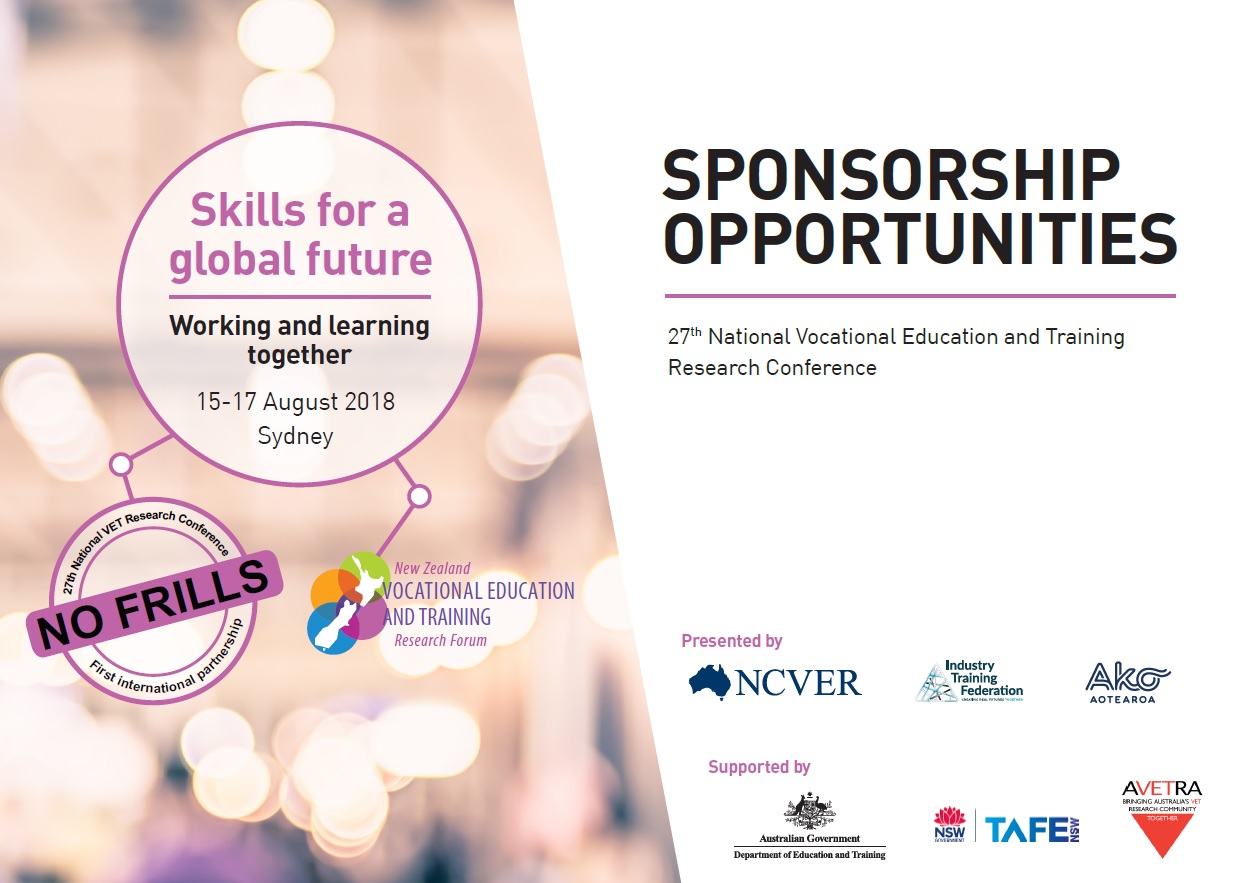 | | |
| --- | --- |
| | |
| Supporting Sponsors | |
| | |
| | |
| | |
Conference Dinner Sponsor
Welcome Reception Sponsor
Keynote Sponsor





| Tea Break Sponsors | |
| --- | --- |
| | |
| | |
| | |
Scholarship Sponsor


Venue
Co-hosted with New Zealand's Industry Training Federation and Ako Aotearoa, the conference will be held in Sydney at the Aerial UTS Function Centre, located on Level 7 of Building 10, University of Technology Sydney, 235 Jones Street, Ultimo.
Accommodation
There are a number of accommodation options available for a range of budgets close or nearby to the venue.
Accor Hotels offer 10% off the best available rate for delegates conferencing at the UTS Aerial Function Centre at selected hotels nearby.
The Mercure Sydney and Novotel Sydney Central are also just across the road, and Ibis Sydney World Square is just a short walk away so you are sure to find accommodation that suits your budget.
Sydney attractions
A leading destination in innovation, tourism and international business – Sydney is Australia's oldest and most cosmopolitan city with an enviable reputation as one of the world's most beautiful and livable metropolitan cities.
Sydney is the destination of choice for international corporations, business leaders, tourists and students. It has become a thriving hub for almost 40% of the top 500 Australian corporations in education, finance, digital and creative, all set against the stunning backdrop of ocean coastline and the famous, iridescent harbor.
There is also a fantastic range of world class tourist attractions within a short distance of the conference location, including the famous Sydney Opera House, the Sydney Harbour Bridge and Taronga Zoo to Bondi Beach (only a short train ride away) and the beautiful Blue Mountains.
Why not extend your stay and book tours of this outstanding city through Destination NSW.
General information
Conference contact
Georgia Basford-Foxx
National Centre for Vocational Education Research
Level 5, 60 Light Square, Adelaide SA 5000
georgiabasford-foxx@ncver.edu.au
08 8230 8451