Given the exceptional circumstances surrounding the COVID-19 outbreak and in accordance with the latest Federal Government advice, it is with regret that we have decided to cancel the 'No Frills' conference planned for 8-10 July 2020 at North Metropolitan TAFE, Perth.
Moving forward, we are thinking about different ways to present this important work to the VET community, so please watch this space.
About the conference
NCVER is thrilled to co-host the 29th National Vocational Education and Training Research Conference 'No Frills' with North Metropolitan TAFE (NMTAFE) in Perth on 8-10 July 2020.
'No Frills' is a well-known annual national conference where researchers, practitioners, providers and industry representatives come together and share knowledge, ideas, insights and solutions around Australia's VET sector.
The conference also provides valuable professional development opportunities through a program of hands-on pre-conference workshops incorporating activities on data and research analytics, and research practice.
Theme
The theme for the 2020 conference is Workforce ready: challenges and opportunities for VET.
The successful transition of an employee from education to job is essential to building a strong economy.
But in a world where workplaces are rapidly evolving alongside technology and market demand, what does it mean to be 'workforce ready'? And what is VET's role in preparing students for work?
There is much debate over how our future workforce landscapes will look, or what skills our workers will need to be successful at their jobs.
However, one thing is clear: almost all workers will need to upskill or retrain throughout their working lives. What challenges and opportunities does this present for VET, and what plans should we be making for the future?
Who should attend?
Educators
Researchers
Policy-makers
Registered training organisations
Schools and universities
Research organisations

Commonwealth, state and territory training authorities
Industry bodies
Employer groups
Not-for-profit and community associations
Private consultants
Program
The conference program featuring keynote speakers, 36 presentations, networking opportunities and pre-conference workshops is out now.
Registration
Registration closed.
The following registration packages are available ranging from $380-$500.
| | |
| --- | --- |
| Conference Package A (includes the Welcome Reception) | $380 |
| Conference Package B (includes the Welcome Reception & Conference Dinner) | $460 |
| Conference Package C (includes the Welcome Reception & Pre-conference PD Workshops) | $480 |
| Conference Package D (includes the Welcome Reception, Conference Dinner & Pre-conference PD Workshops) | $500 |
Sponsorship
A range of sponsorship packages are available again this year. We suggest you get in quick as these opportunities will not last long.
Please click the image below to view our Sponsorship Opportunities booklet and see what's on offer!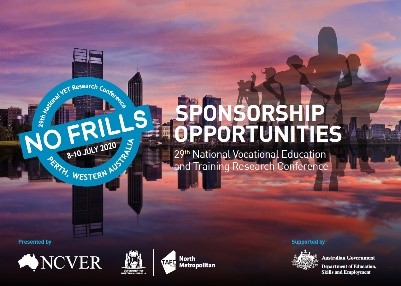 Feel free to contact Stephen Tormet at stephentormet@ncver.edu.au or 08 8230 8451 to discuss your sponsorship requirements.
Call for presentations
The call for presentations has now closed. Applicants will be notified of the result of their submission by Friday 6 March 2020.
All presenters (both oral and poster) must register for the conference as a full paying delegate. Further information on registration fees will be available in mid-March 2020.
Scholarships
Scholarship applications have now closed. Successful applicants will be notified in the coming weeks.
Scholarships are valued at $1,200. This covers full conference registration at $500 (which includes pre-conference workshops, welcome reception and conference dinner) and $700 to support travel, accommodation and other related sundries.
| | |
| --- | --- |
| Scholarship type | Criteria |
| Early career researcher | Available to any person who has a research degree (or degree with a strong research component) within the last six years and who is currently working in a research-related role. |
| Researcher | Available to anyone working in a VET-related research role. |
| Practitioner | Available to those involved in the delivery of VET, preferably directly. |
Terms and conditions
Successful applicants must:
provide original receipts or invoices for expenditure incurred for travel to and from the conference and accommodation in Perth to a maximum of $700 for reimbursement
attend the conference from 8-10 July 2020
consent to their personal information such as names, title, abstract and photo being made available for promotional use by NCVER.
Key dates
| | |
| --- | --- |
| Abstract submission due | Monday 17 February 2020 |
| Abstract acceptance notification | Friday 6 March 2020 |
| Program release and registration open | Mid-March 2020 |
| Presentation due | Monday 29 June 2020 |
| Conference begins | Wednesday 8 July 2020 |
Conference venues
Conference hub: 30 Aberdeen Street, Perth
The conference will be held at NMTAFE, Northbridge campus. Located immediately north of Perth's CBD, Northbridge is known as Perth's cultural centre, with its cluster of modern art galleries, street art and restaurants.
Welcome reception: 12 Aberdeen Street, Northbridge
The welcome reception will be hosted at NMTAFE, Northbridge campus' Gallery Central, the centerpiece of creative industries at NMTAFE, where student talent and other professional artists are showcased.
Conference dinner: 35 Kendrew Crescent, Joondalup
A delicious conference dinner will be held at the Pavilion Restaurant, which is operated by students at NMTAFE's Hospitality and Culinary Arts Centre in Joondalup.
Bus transfers will be available to/from Northbridge campus to Joondalup campus for the dinner.
About Perth
The city of Perth is set on the beautiful Swan River looking up to the Kings Park Botanic Gardens, while the suburbs of Perth stretch in all directions to the Darling Range in the east and the Indian Ocean in the west. Beaches stretch for miles to the north and south and the well-known port city of Fremantle is 18km south west of the city.
Perth is home to about 2.14 million people, making it the fourth most populous city in Australia. It's easy to get around the city by bus or train or on foot, and the metropolitan area is linked by efficient freeways, highways, railway lines and cycle paths.
The city embraces the best of both worlds, where soft-sand beaches and scenic parks meet a thriving metropolis of small bars, creative restaurants and curated street art.
Sponsors
Conference co-host

Supporting sponsor

Conference dinner sponsor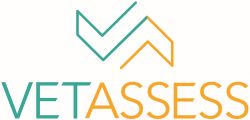 Scholarship sponsor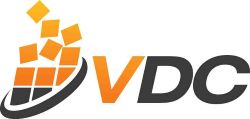 Exhibitor sponsor

Contact us
For inquiries please feel free to get in touch.