About the conference
2021 will be a big year as we celebrate 30 years of the National Vocational Education and Training (VET) Research Conference 'No Frills'.
Since 1992, NCVER's mid-year conference has been bringing together diverse perspectives in relation to policy and practice from across the VET sector to share, discuss and present on priority issues.
The first event was held in Sydney at the University/TAFE Training Research Conference. The notion was to encourage more interest in VET research among higher education researchers as there were very few active in the sector back then.
'No Frills' provides an opportunity for networking and ideas sharing in a friendly and informal atmosphere with a cross-section of industry representatives, practitioners, researchers and policymakers. The conference also contributes to building capacity and capability in VET research by providing opportunities for engagement and learnings for early stage career researchers and more experienced researchers.
The conference became colloquially known as 'No Frills' because no fees were charged for attending in its early years and participants had to be largely self-sufficient.
After consulting with our past 'No Frills' attendees on the uncertainty surrounding COVID-19 restrictions, we've decided to hold this special anniversary event fully online from 7-9 July 2021… with some exciting extra 'frills' included!
Theme
The theme is Past informing the future. How has the VET landscape changed in 30 years? Let's celebrate the milestones and achievements!
The pace of change in the months since the pandemic began far exceeds that in the years preceding it. COVID-19 has radically affected how we learn, work and live. Levels of corporate responsibility have been heightened. We've become more flexible and connected as we've adjusted to new modes of learning and working.
We've been through economic downturns before and felt their impact on our financial, social, health and general wellbeing. How does the past inform the future, and what role does VET play in our economic recovery?
This is a great opportunity for practitioners and researchers alike to share their research and knowledge through presentations, focus sessions, and discussion groups.
Who should attend?
Educators / Researchers / Policy-makers / Registered Training Organisations / Schools and universities / Research organisations / Industry bodies / Employer groups / Not-for-profit and community associations / Private consultants
Sponsorship
We are proud to offer a range of sponsorship packages for this conference. To view our sponsorship opportunities booklet, please click the cover below.
We are always open to discussing package inclusions and will do our best to help tailor a package to your companies requirements.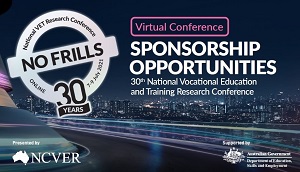 Please contact StephenTormet@ncver.edu.au if you would like to discuss becoming a sponsor of this event.
Call for presentations
The call for presentations has now closed!
Abstract submitters will be notified of the outcome of their submission by Friday 19 March.
Presenters will be given access to the full virtual conference experience at no cost.
Key dates
| | |
| --- | --- |
| Abstract submissions due | Monday 1 March 2021 |
| Abstract acceptance notifications | Friday 19 March 2021 |
| Program release and registration opens | Early April 2021 |
| Presentations due | Early June 2021 |
| Conference begins | Wednesday 7 July 2021 |
Contacts
For all conference-related enquiries, please contact us.