Thank you to national and international delegates from Australia, New Zealand and the USA who attended and presented at the 26th National Vocational Education and Training Research Conference 'No Frills' in Hobart on 5 to 7 July.
This year's conference explored the theme Skilling for tomorrow, highlighting work across three sub-themes, explore, translate and evolve. Drawing out points relevant to the conference theme, the NCVER discussion paper Skilling for tomorrow which provides a summary of research and discussion on the future world of work, set the scene. Program highlights included sector relevant keynote addresses and over 40 presentations across five concurrent streams.
A huge thank you to our co-host TasTAFE, who provided excellent venue facilities and exceptional support, especially from TAFE students. One delegate commented "It was the best example I've seen, in decades of VET research conference attendance, of integrating student work and conference activities."
Thank you also to all our sponsors. This conference would not be possible without their ongoing support.
Program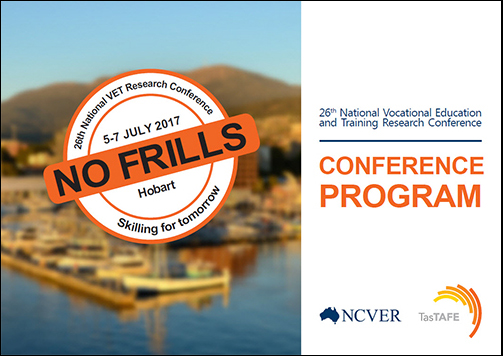 Keynotes
Many thanks to our keynote speakers, Adrienne Dawson, Principal Advocacy Advisor at the Industry Training Federation, New Zealand; John Hooper, Executive Officer at Neighbourhood Houses Tasmania; and Stacey Joseph, Member and Education Specialist at the Tasmanian Chamber of Commerce and Industry for their contributions this year. Thank you also to Jason Coutts, Student Identifiers Registrar at the USI Office who presented on the Unique Student Identifier with a focus on the implications for research in the VET sector.
View Adrienne Dawson's presentation on NCVER's YouTube channel
View John Hooper's presentation on NCVER's YouTube channel
Listen to Stacey Joseph's presentation
Listen to Jason Coutt's presentation
Presentations and poster awards
Presentations, including keynote presentations, are available to download from VOCEDplus, NCVER's free international research database for tertiary education.
Congratulations to our Best Poster award winners this year. They were:
People's Choice
Li Na, visiting scholar to TAFE Queensland from Wuhan College
Developing educator capability for delivery of blended learning in a single statewide provider
Judge's Choice
Craig Poole, Li Na, Alicia Toohey & Zhang Ming from TAFE Queensland
Pathways to university: comparing VET diplomas and higher education diplomas and identification of potential equity issues between both streams
Scholarships
Scholarships were introduced for the first time this year. This initiative, which is part of NCVER's commitment to build capacity and capability in VET research, is designed to facilitate attendance and widen participation from across the VET sector.

'No Frills' 2017 scholarships were awarded to the following presenters:
VET Development Centre Practitioner Scholarship: Mr Warren Guest, Holmesglen Institute


TAFE Directors Australia Practitioner Scholarship: Dr Md Aftabuzzaman, Melbourne Polytechnic


Department of Education and Training Practitioner Scholarship: Ms Alison Haines and Ms Fiona Plunkett, Charles Darwin University (joint award)


Skills Tasmania Early Career Researcher Scholarship: Ms Lisa Denny, University of Tasmania


NCVER Early Career Researcher Scholarship: Dr Megan Moskos, NILS, Flinders University