Recordings
If you have missed one of our 2021 webinars, click on the link below to see the presentation and listen to the recording. Access is free.
These webinars are hosted on an external site and you will need to register your name and email address to access.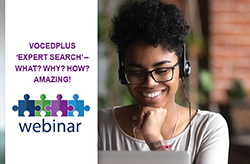 Presented by Tracy Gamlin, Research Librarian, Knowledge Management Branch, National Centre for Vocational Education Research (NCVER) on Thursday 25 March 2021.
This 40 minute webinar demonstrates the powerful VOCEDplus 'Expert Search'. Learn how to build complex search strings quickly and easily, filter search results to refine and enhance your search results, and speak the language of VOCEDplus for optimal searching.