Introduction
Presented here are data from the National Apprentice and Trainee Collection latest quarterly release which provide estimates of activity for apprentices and trainees in Australia.
Early trend estimates are also presented for the quarter for seasonally adjusted and smoothed commencements at the national level for trade and non-trade occupations. Seasonal adjustment and smoothing involves the use of a mathematical model to smooth out fluctuations due to seasonal influences. These early trend estimates cannot be disaggregated further by state and territory.
The latest annual release is available here. For more information see Apprentice and trainees.
Data products
Please select the appropriate tool depending on whether you are a general, regular or expert user.
General users
Have a basic understanding of data.
Supporting documentation is available from the Publication page.
Regular users
Can understand tables and manipulate data.
Expert users
Have a sophisticated understanding of data and its uses, including items and concepts.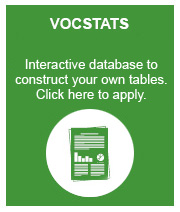 Note: Access to this detailed data requires registration.
Data services
If you can't find what you need from the above tools, we may be able to provide you with customised data to meet your requirements. This service will be charged on a cost recovery basis.
For more information, see Services and charges: data and library information.
Superseded publications
Superseded publications from this collection may be accessed through the VOCEDplus database.